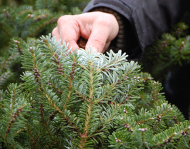 Origins | Christmas trees and Greenery
The origin of the plant is an expression of the geografical area and climate under which the plant is derived from (Atlantic, sub-continental or continental). The climate has an impact on the genetic characteristics of the plant and should match the location of the area when it comes to soil, temperature, frost etc.
Denmark is located in the Atlantic climate where species like Ambrolauri, Borshomi, Tversted and Silkeborg Nordskov are very suitable. Other suitable provenances for Christmas trees are Apsheronsk (subcontinental) or Abies lasiocarpa and all Picea species.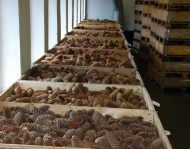 Assurance of origin | Christmas trees
In Denmark, all seeds which are subject to control by the Ministry of Environment and Food of Denmark, are delivered with information on origin and quality. Thus the assurance of origin is a matter of trust and a very important matter to us.
We cooperate with highly professional suppliers only growing plants from high quality seeds and controlled production processes.
Highly controlled production processes is instrumental in ensuring you the correct provenances and has impact on your possiblity to obtain the best harvest yield and a high return per hectare.